Regular price
Sale price
A$39.85
Unit price
per
Sale
Sold out
Nature's Sunshine Andrographis contains AP-Bio®, a standardised form of Andrographis which has been scientifically shown to assist in reducing the severity and duration of mild upper respiratory tract infection symptoms including cough, runny nose, headache, mild throat inflammation and feeling of general malaise*.
View full details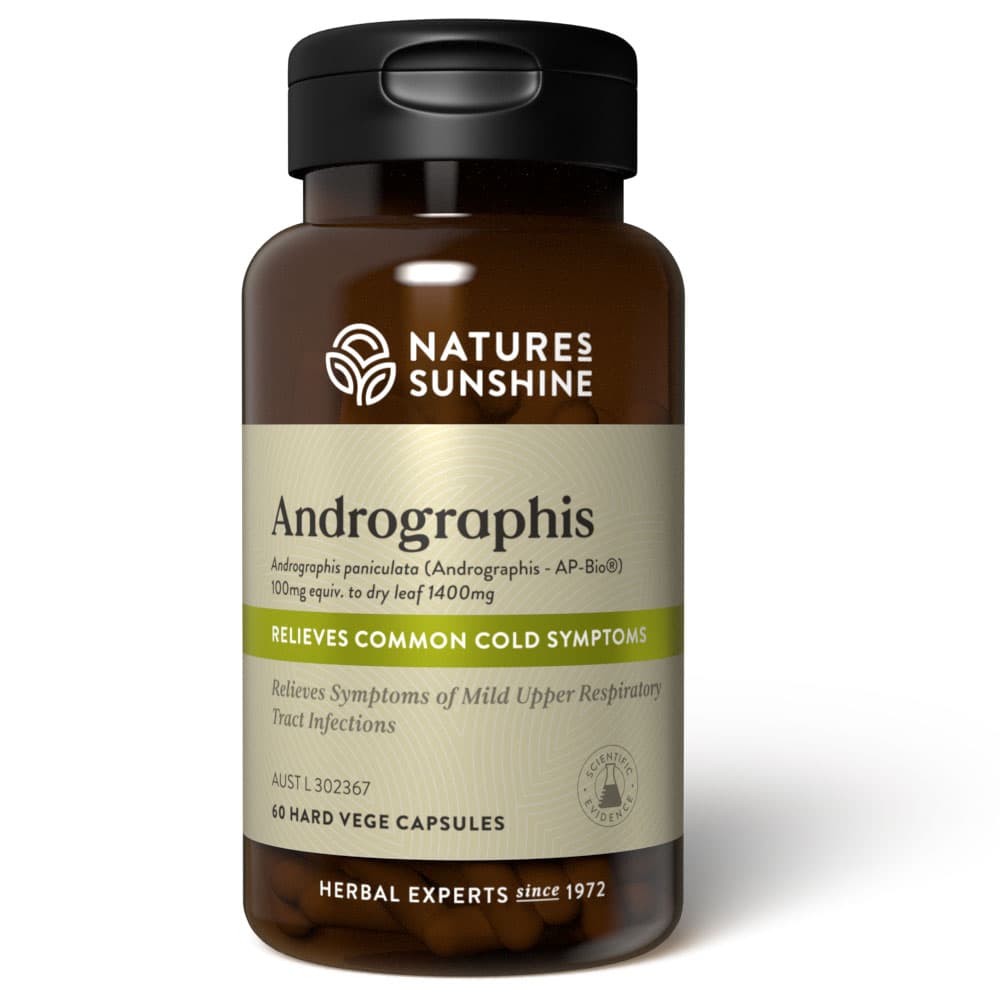 Andrographis
Nature's Immune Support
Relieves symptoms and duration of the common cold
Maintains healthy immune function
Relieves symptoms of mild upper respiratory tract infections
Reduces symptoms of sinusitis
Now in Vege Capsules
Fresh andrographis paniculata leaves.
ACTIVE INGREDIENTS PER CAPSULE
Andrographis paniculata (Andrographis - AP-Bio®) 100mg equiv. to dry leaf 1.4g (1400mg), std. to contain andrographolides……. 35mg
DOSAGE
Adults: Take 1 capsule twice daily, or as professionally prescribed.
PACK SIZE
60 vege capsules
NO ADDED
Vegan friendly. No added animal products, gluten, lactose, soy, starch, sugars or salt, wheat products, artificial colourings, flavourings or preservatives.
CAUTIONS
Not recommended while pregnant or breast feeding.
Take two hours away from all prescription medications
WARNINGS
Always read the label and follow directions for use.
If symptoms persist, talk to your health professional.
Adults only.
Andrographis may cause allergic reactions in some people. If you have a severe reaction (such as anaphylaxis) stop use and seek immediate medical attention.
Andrographis may cause taste disturbance including loss of taste. If you develop any adverse symptoms, stop use and seek medical advice.
*Saxena RC et al(2010) A randomized double blind placebo controlled clinical evaluation of extract of Andrographis paniculata (KalmCold) in patients with uncomplicated upper respiratory tract infection. Phytomedicine. Mar;17(3-4):178-85.
Great product
Bought this to get my dogs through a bout of kennel cough.
T&Cs: I agree to the Terms and Conditions listed above
My family swears by this
We have used andrographis for years as it is the only product we have found to stop colds in their tracks. Highly recommend!