Regular price
Sale price
A$74.95
Unit price
per
Sale
Sold out
Used for centuries by native Americans, Goldenseal is one of the oldest documented medicinal plants of North American origin. Often called 'the King of mucous membranes' Golden seal is traditionally used in Western herbal medicine to reduce excess mucous and relive mild upper respiratory tract congestion.
Unique powdered herb
No added excipients
View full details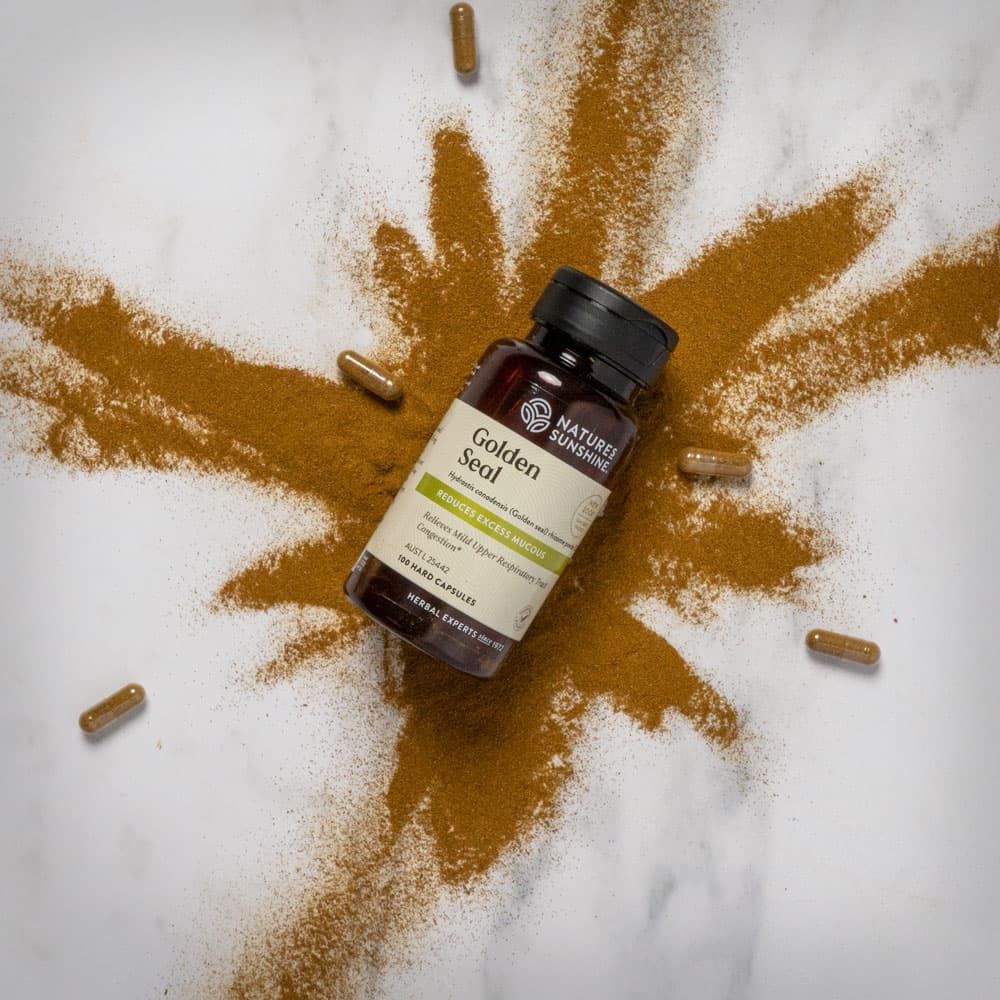 Golden Seal
Benefits of Golden Seal
Traditionally used in Western herbal medicine to:
Reduce excess mucous
Reduce throat mucous membrane inflammation and irritation
Relieve mild upper respiratory tract congestion
Dried goldenseal rhizome (roots).
EACH CAPSULE CONTAINS
Hydrastis canadensis (Golden seal) rhizome powder 525mg
DOSAGE
Adults: Take 2 capsules twice daily with a meal, or as professionally prescribed.
PACK SIZE
100 gelatin capsules
NO ADDED
Gluten, lactose, soy, starch, sugars or salt, wheat products, artificial colourings, flavourings or preservatives.
CAUTIONS
Not recommended while pregnant or breast feeding.
Take two hours away from all prescription medications
WARNINGS
Always read the label and follow directions for use.
If symptoms persist, talk to your health professional.
Adults only.
T&Cs: I agree to the Terms and Conditions listed above
Exceptional product
Gold sale, helped as indicated with mucus and relieve my symptoms
T&Cs: I agree to the Terms and Conditions listed above
Treatment for Tinnitus
Was told by Barbara O'neil this product treats Tinnitus I have tried it and no difference at all
Thank you for taking the time to provide us with your feedback. It is disappointing to hear that you did not have a positive experience using our product.
Please be advised that we do not recommend the use of Golden Seal for tinnitus. Golden seal is used in traditional Western herbal medicine for an array of health conditions and the dosage and directions of use on our product is specifically for the indications stated on our label and website.
If you would like to use Golden seal for another health condition, this can be done under the supervision of a qualified naturopath. Please feel free to contact us anytime.
Thank you again for your feedback.
T&Cs: I agree to the Terms and Conditions listed above
Golden Seal
I have been taking Golden Seal, and it has truly exceeded my expectations. This natural remedy has proven highly effective in addressing issues such as congestion and mucus build-up.
One of the standout features of Golden Seal is its rapid action. After taking it, I noticed a significant improvement in my symptoms within a short period. It provided much-needed relief, making it easier to breathe and alleviating discomfort.
I appreciate that Golden Seal is a natural product, which is important to me. It's reassuring to know that I'm not introducing unnecessary chemicals into my body.
Additionally, the ease of use is a significant advantage. The instructions are clear and straightforward, making it accessible to anyone seeking relief from congestion and mucus-related problems.
I wholeheartedly recommend Golden Seal. It's an outstanding product that works wonders and has earned a permanent place in my natural remedy collection. If you're searching for a reliable solution to clear congestion and mucus, Golden Seal is definitely worth trying.
T&Cs: I agree to the Terms and Conditions listed above
Excellent product
Golden seal works excellent for my extreme anaphylactic immune system allergic to all anti biotics immune system crashes can go from sneezing to fluid on lungs pneumonia in 24 hrs. This works excellently with liquorice root to dry lungs quickly
Cheers
Libby
T&Cs: I agree to the Terms and Conditions listed above
Unsurpassed in quality and effectiveness
Nature Sunshine products are all unsurpassed in quality and effectiveness. Golden Seal is no exception. Unsurpassed as an anti-inflammatory and as an aid to reduce mucus in the upper respiratory system - incl. ears, nose, and throat. I highly recommend Nature Sunshine. And best of all, it is Australian!