Regular price
Sale price
A$41.95
Unit price
per
Sale
Sold out
Help relieve constipation naturally with Lower Bowl Stimulant from Nature's Sunshine.
All natural, plant powered laxative
Formulated with a combination of 9 herbal ingredients from optimal climate locations around the world
Long standing historical evidence of use for bowel health
Vegan friendly, 100% plant powder with no added fillers or binders
View full details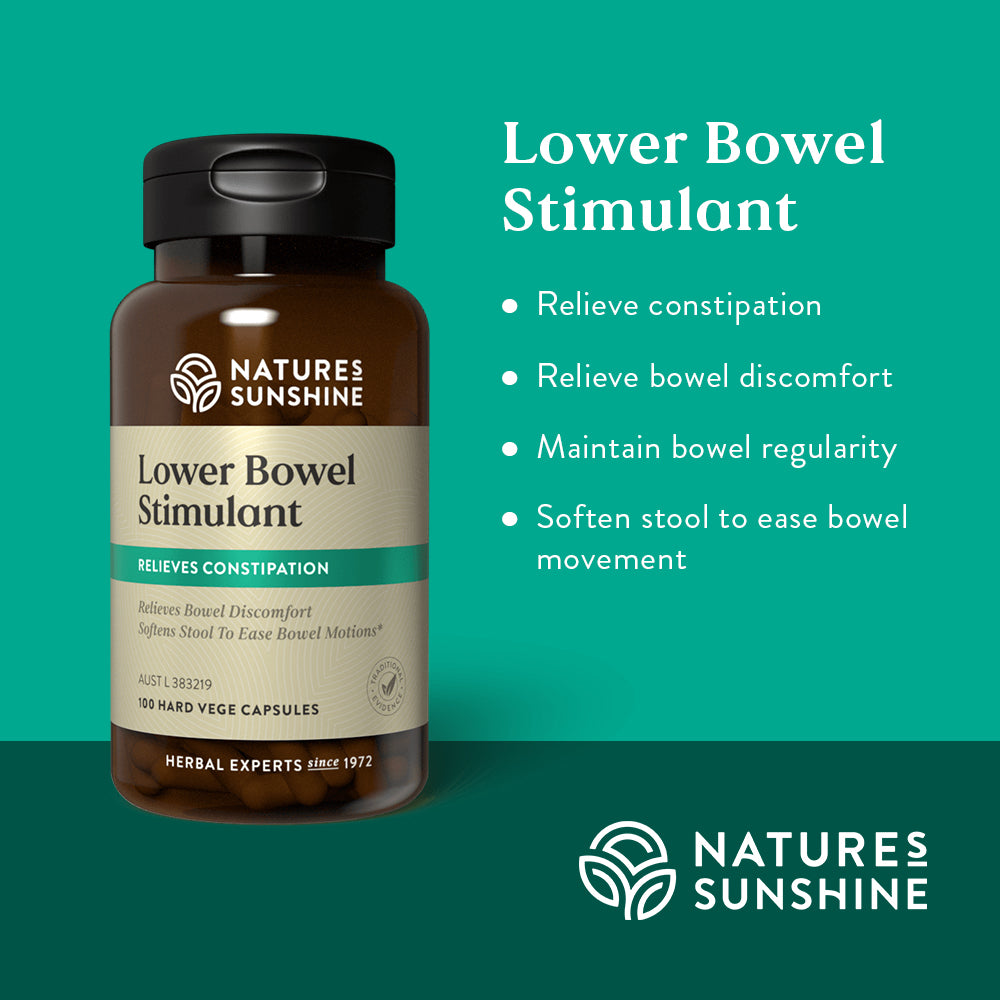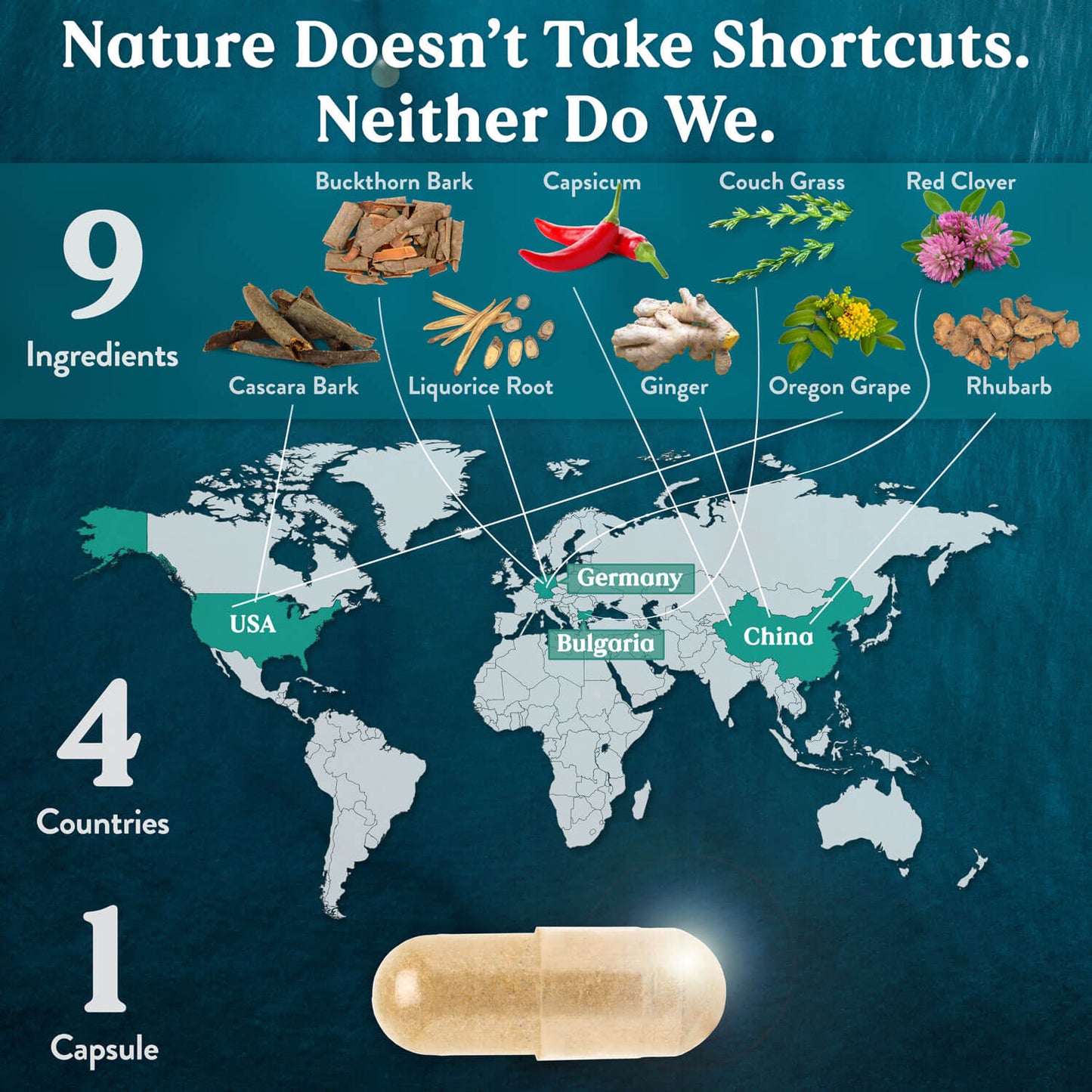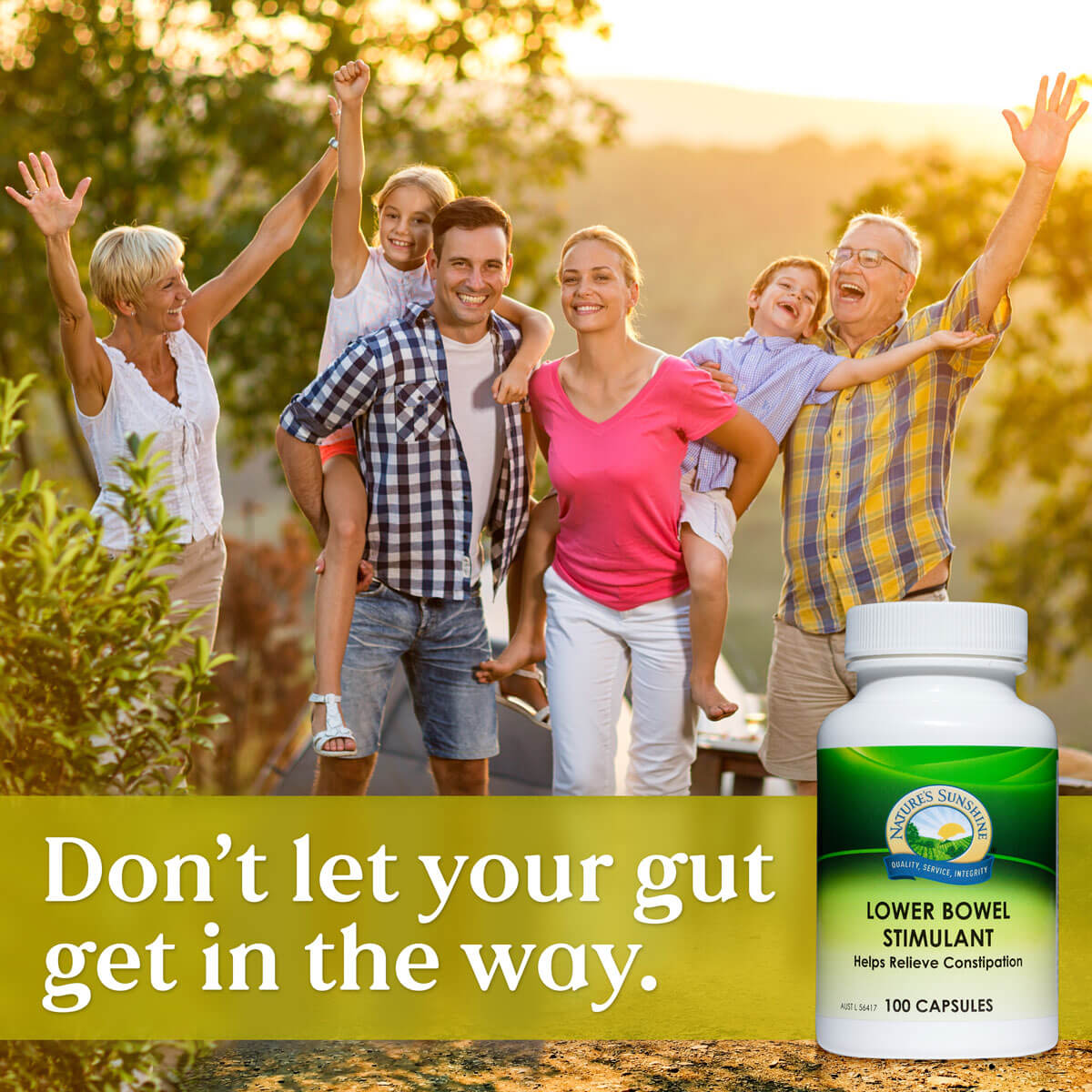 Lower Bowel Stimulant
Traditional Relief
Traditionally used in Western herbal medicine to:
Relieve constipation
Relieve bowel discomfort
Maintain bowel regularity
Soften stool to ease bowel movement
Now in Vege Capsules
Key Ingredients
Cascara
Buckthorn
Liquorice
Cascara bark
EACH CAPSULE CONTAINS
Active Herb Powders per Capsule (425mg):
Frangula purshiana (Cascara) stem bark 196mg
Rhamnus frangula (Buckthorn) bark 76mg
Liquorice Powder(Glycyrrhiza glabra root) 65mg
Capsicum annuum (Capsicum) fruit 22mg
Zingiber officinale (Ginger) rhizome 22mg
Elymus repens (Couch Grass) rhizome 11mg
Berberis aquifolium (Oregon Grape) root 11mg
Trifolium pratense (Red Clover) flower 11mg
Rheum officinale (Rhubarb) root 11mg
DOSAGE
Adults: Take 2 capsules twice daily with at least one glass (250ml) of water, or as professionally prescribed
PACK SIZE
100 vege capsules
NO ADDED
Vegan friendly. No added gluten, lactose, soy, starch, sugars or salt, wheat products, artificial colourings, flavourings or preservatives.
CAUTIONS
Not recommend while pregnant or breast feeding.
Take two hours away from all prescription medications
WARNINGS
Always read the label and follow directions for use. If symptoms persist, talk to your health professional. Drink plenty of water. Prolonged use may cause serious bowel problems. Do not use when abdominal pain, nausea, or vomiting are present, or if you develop diarrhoea. If you are pregnant or breast-feeding seek the advice of a healthcare professional before use. Use in children under 12 is not recommended.
T&Cs: I agree to the Terms and Conditions listed above
Lower bowel stimulant
I suffer from constipation regardless of how well I eat or how much water I drink. I have used this product for years as it is the only product that I have found to effectively work for me 👍🏻
T&Cs: I agree to the Terms and Conditions listed above
Easy-Peary bowel opener
My Colon hydrator specialist recommended this product.
After a fiscular bowel operation 6 years ago-my new bowel presented. With putty like difficulties. It took 6 years for me to find my happy solution, after my procedure I have taken the suggested natural remedy Lower Bowel Stimulate.
So far it has been 100% successful and a massive improvement on the sachet powder that had been suggested-i will Never take that vile mucus producing stuff again, yet the. He just sells loads of it😫
My gratitude to Lower Bowel Stimulant.
T&Cs: I agree to the Terms and Conditions listed above
Lower Bowel Stimulant
Amazing. Works all the time. Is gentle on the stomach and helps to get things moving.
very good
I fine this product is very natural and easy to use. I would recommend this product.
T&Cs: I agree to the Terms and Conditions listed above
Since 2018 when starting to use the Lower Bowel Stimulsnt it has really help me, more than I can say. From having huge problems in that area I've become relaxed and happy with the result.