Regular price
A$39.95
Sale price
A$31.96
Unit price
per
Sale

20%
Sold out
Vari-Gone is a unique herbal blend that features horse chestnut, rutin and vitamin C. The herbal botanicals—horse chestnut seed, rutin, fenugreek seed, lemon bioflavonoids and hesperidin—are all non-GMO, vegan and gluten-free for a cleaner nutritional experience.
Reduces the appearance of mild varicose veins
Relieves leg swelling, itchiness, heaviness and pain associated with mild varicose veins
Relieves mild tissue oedema
Always read the label and follow the directions for use. Read the warnings below before purchase.
View full details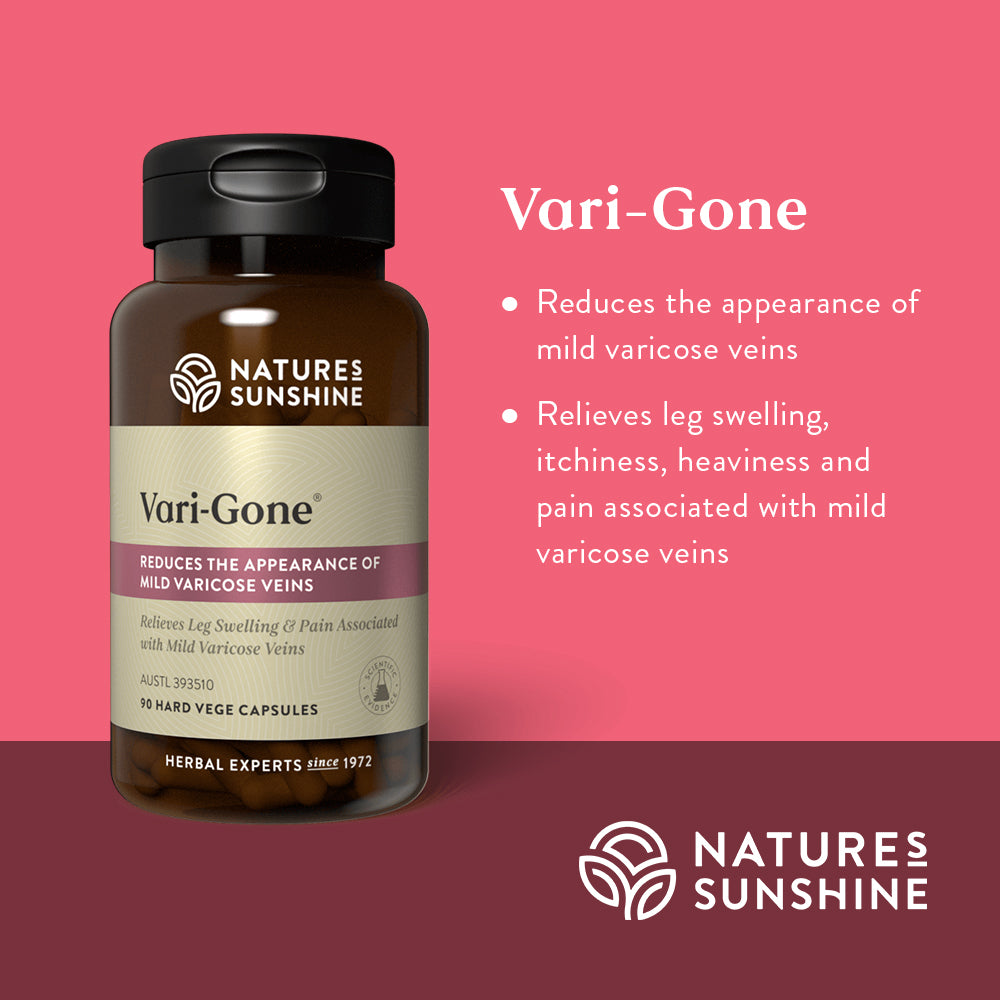 Vari-Gone®
Why choose Vari-Gone®
Vegan Friendly
Australia's only herbal powder product specifically for mild varicose veins
Overseas top seller for over 20 years
Now in Vege Capsules
Herbal History
Hundreds of years ago, horse chestnut trees grew natively in Great Britain, Spain and other parts of Europe. Now they're found throughout the northern hemisphere, decorating city parks and streets alike. Lemons are likely native to China and perhaps Burma. They grow all over the world in temperate climates without frost, including the southeastern and southwestern US, and Italy. In the 1930s, Hungarian chemist Albert Szent-Györgyi discovered and named ascorbic acid (vitamin C), which literally means "anti-scurvy". In 1936, he found a group of bioflavonoid compounds that he named vitamin P. Today we call this rutin. He won the Nobel Prize for Medicine in 1937 for his discoveries and for his description of the oxidation process.
Horse Chestnuts
ACTIVE INGREDIENTS PER CAPSULE
Aesculus hippocastanum (Horse Chestnut) extract dry conc.
175 mg equiv. to dry seed 700 mg
Trigonella foenum-graecum (Fenugreek) seed powder 45 mg
Ascorbic acid (Vitamin C) 35 mg
Rutoside (Rutin) 30 mg
Hesperidin 30 mg
Citrus bioflavonoids extract 30 mg
DOSAGE
Adults: Take two capsules twice daily, or as professionally prescribed.
PACK SIZE
90 vege capsules
NO ADDED
Vegan friendly. No added animal products, gluten, lactose, soy, starch, sugars or salt, wheat products, artificial colourings, flavourings or preservatives.
CAUTIONS
Not recommended while pregnant or breast feeding.
Take two hours away from all prescription medications
WARNINGS
Always read the label and follow directions for use.
If symptoms persist, talk to your health professional.