Regular price
Sale price
A$43.95
Unit price
per
Sale
Sold out
Withania, also called Ashwagandha, is an important herb with a long history of use in Ayurvedic Medicine. In Hindi, the name 'Ashwagandha' means 'horse smell', referring more to the horse's strength and health rather than its smell. It is an adaptogenic herb, traditionally used in Western herbal medicine to support the nervous system and help the body adapt to stress.
Unique powdered herb
Ayurvedic and Western herbal medicine use
View full details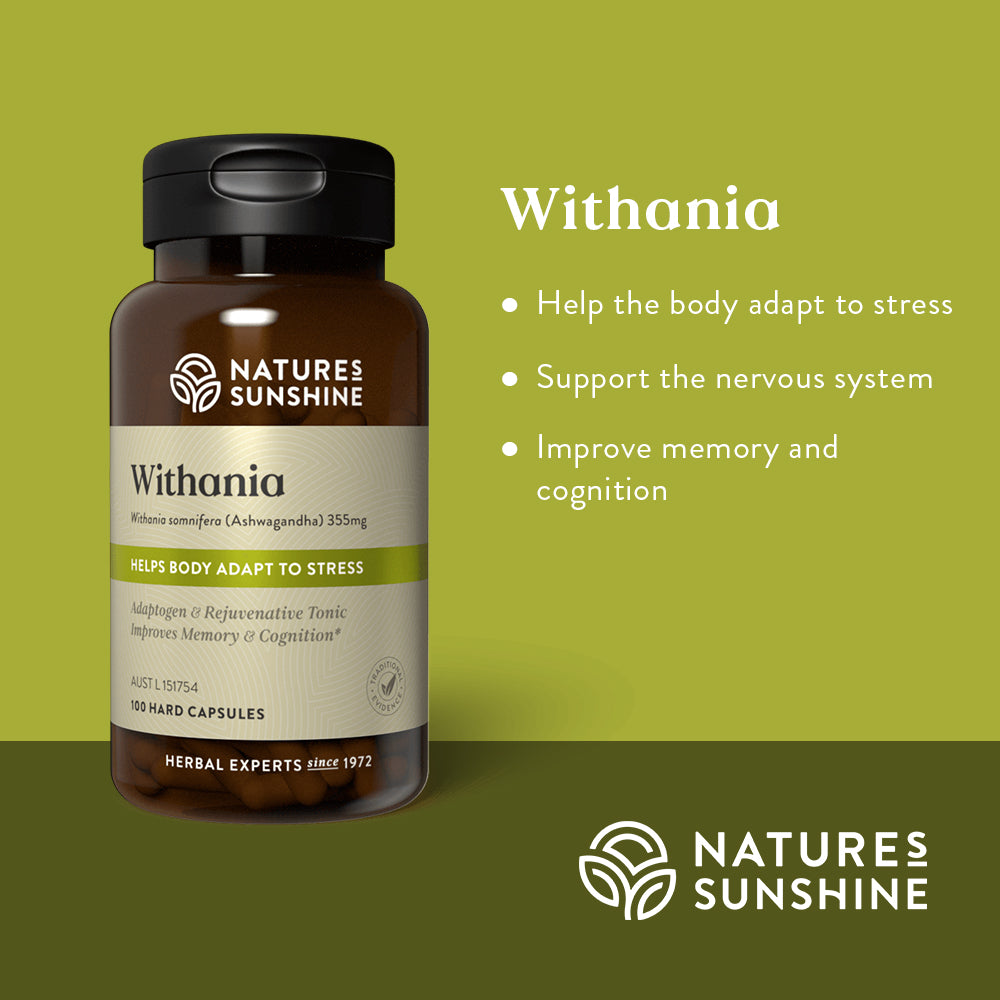 Withania
Benefits of Withania
Traditionally used in Ayurvedic & Western herbal medicine to:
Help the body adapt to stress
Support the nervous system
Improve memory and cognition
Dried withania root prior to being powdered.
EACH CAPSULE CONTAINS
Withania somnifera (Ashwagandha) root powder 355mg
DOSAGE
Adults: Take 3 capsules three times daily with a meal, or as professionally prescribed.
PACK SIZE
100 gelatin capsules
NO ADDED
Gluten, lactose, soy, starch, sugars or salt, wheat products, artificial colourings, flavourings or preservatives.
CAUTIONS
Not recommended while pregnant or breast feeding.
Take two hours away from all prescription medications
WARNINGS
Always read the label and follow directions for use. Consult a health care professional prior to use if you are pregnant or breastfeeding.
T&Cs: I agree to the Terms and Conditions listed above
Cannot live without
I love Ashwaghanda, it's really making a difference with my sleep every night and feeling a little more balanced with nerves.
T&Cs: I agree to the Terms and Conditions listed above
Withania
I've noticed a massive change in my mental health as well as my brain fog. If there are days where I miss taking it I am definitely more "on edge" compared to days when I take it as directed. I also love that there are no significant withdrawal side effects if I run out of tablets before my next order arrives
T&Cs: I agree to the Terms and Conditions listed above
Very helpful stress reliever tablets
My dr recommended Withania and at first reluctant to take but did as needed to feel calmer after a major operation
Have been taking them for a year
My only concern is I'm not sure how long you can take them for and is it safe
Hi Pam,
Thank you for taking the time to provide us with your feedback. It is greatly appreciated. Withania is one of our favourite herbal ingredients and we are glad to hear you are experiencing positive results.
It is safe to take Withania as long as needed. We do recommend that all complementary medicines be taken two hours away from any prescription medications. Should you have any further questions, please do not hesitate to contact us via email or phone 1800 687 577.
T&Cs: I agree to the Terms and Conditions listed above
Great Product
My Dr suggested I take this product for stress and it certainly helps and knowing it's a far more natural products makes me feel better
T&Cs: I agree to the Terms and Conditions listed above
Good herb
Helped with anxiety in combination with Rhodiola